MEMBERSHIPS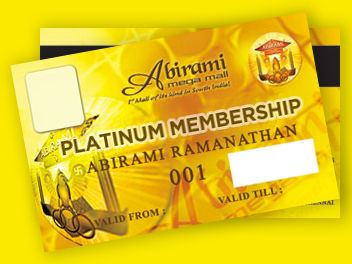 ABIRAMI PLATINUM MEMBERSHIP
Rs 1,000 PER PERSON (Valid for 365 days)
BENEFITS
Two free movie tickets
Cash vouchers worth Rs.10,000
Exclusive ticket counters for members
Premier shows for members
5-20% discount at inhouse shopping & entertainments
Seats blocked for members on first come first serve basis in priority rows
Earn While You Watch Movies
Buy movie tickets at Abirami Mega Mall and earn 3 points for every Rs.100
Each point is equivalent to Rs.1
Earn 100 points for every member introduced by you. Introduce 10 members and earn 1000 points equivalent to the money spent on membership fees.
You can redeem the points as and when you like, thruogh your movie tickets.